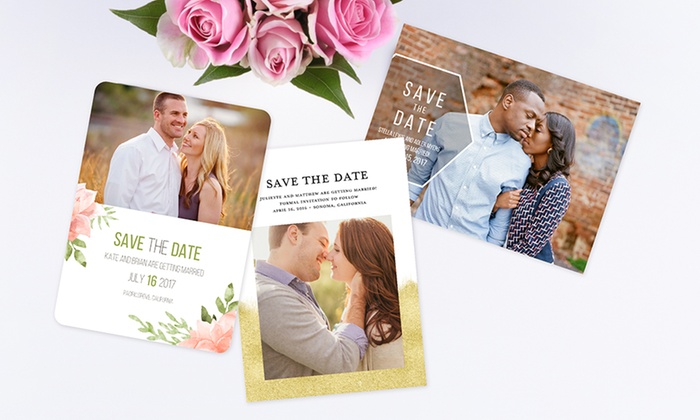 If you've set the date to celebrate your union to your perfect-for-you other half, you'll notice the big day starts to creep up on you incredibly fast! There are colour schemes to decide on, shoes to buy, suits and dresses to fit, food to discuss, a wedding reception to consider – it can all seem like a bit of a whirlwind. But one thing you mustn't forget is to invite those you want to share your special day!
We all know the time leading up to a wedding can be quite manic, and it might feel like you aren't making much progress on some days. Once you've written up and sent out those invitations, and start getting those blessed R.S.V.Ps returning, you can rest easy that at least one thing is crossed off what feels like an ever-expanding list!
It can be difficult to know where to start, especially when it comes to a day that's as special as a wedding day. Whether you're looking for something minimalistic or something extravagant, one of the best aspects of the internet is the speed at which you can buy fully customizable wedding invites with pictures that will add the finishing touches to your wedding (or if you're anything like me, kickstart your wedding plan!).
So without further ado, let's address our favourite reasons for choosing this online retailer.
Reason #1 – Get creative on a budget
Now we all know that the cost of weddings can easily mount up, but we've discovered that Mixbook offers fully customizable designs starting from just over $1 each. If you want to create a truly memorable invitation on a budget, there's no better place to start, especially since they offer a variety of beautiful photo invitations around this price point. What's even better, is we've sniffed out that they run site-wide sales so you can sometimes pick up your favourite designs for a fraction of their normal price.
Reason #2 – You need wedding invitations, stat!
There's no need to worry that your invitations might come too late when packs of wedding invitations can ship out in 1-2 business days. It doesn't matter if you took three months to decide on your favourite design because, believe me, we have a few favorites too. You can still have personalized invitations before the big day, even if you're a last-minute planner like me!
Plus, you can do the wedding invitation shopping from the comfort of your own home. Much quicker than traipsing around the local craft shops, card sellers, and wedding fairs! The website is intuitive, and it's incredibly quick and easy to select design options, invitation sizes, quantities, and fully customize your chosen invite.
Reason #3 – Customer service is on point!
As with anything tailored to your big day, the last thing you want is unexpected delays, wrong information, or for the invitations to turn out not the way you wanted. But if you do for any reason need to contact their customer service, they have excellent reviews and quick response times. You can also take advantage of their chat assistance if you need any help during the process, or email them if you've got questions.
But don't just take our word for it, check it out for yourself and let us know your thoughts!