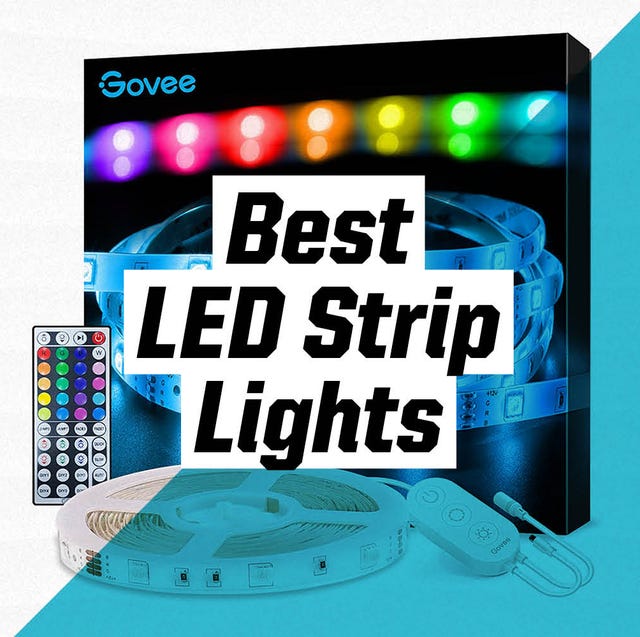 Staff
From gamers to DIYer looking to brighten up a walk-in closet, LED strip lights are an inexpensive, easy way to liven up—or generally improve—spaces where you spend a lot of time. There are smart options that dim and are ideal for laid-back living rooms, waterproof sets for decks, patios, and pools, and ones with tricked-out features, like colors that change to the beat of music (hello, summer 2021 rooftop dance parties). Whatever your purpose or intention, installing them is the kind of project you can bang out in a weekend, so read on for our top recommendations.
What to Consider
There are countless ways to get creative with LED strip lights, but the first thing to consider is an easy one: if you're planning to use them outdoors—for a deck, patio, or around a pool—make sure to buy a set that's waterproof, with an IP-67 rating. Related, finding the right set of LED strip lights for you largely depends on where it's going. If you're a gamer, want to jazz up your car's interior, or throw a disco dance party, there are sets geared toward those purposes. There are also LED growing light sets for greenhouses and options for lighting up your general living space.
Sets are typically sold in reels, installed with double tape or adhesive backings and clips, and are generally battery powered or corded. On a more granular level, you'll want to look out for the number of bulbs per strip and the brightness level, expressed in kelvin, which is abbreviated with a "K." Finally, light sets are often dimmable and controlled via remote or via Bluetooth with an app.
How We Chose
Our selection includes LED strip light sets with average reviewer ratings of four stars or higher, and the majority are 4.5 stars or more. We focused on options to suit a range of activities and projects, as mentioned above, and highlighted the most notable features for every set we cover, including ease of installation and bulb life, extras like remote controls, plus the number of colors and modes offered.
Advertisement – Continue Reading Below
1
Our Value Pick
Bozzon LED Strip Lights
For roughly $29 at the time of this writing, you get more than 65 feet of smart LED strip lighting. Use it for everything from illuminating your bedroom with more than a dozen multicolor lights to throwing a living room dance party where lights sync in time with the music. 
The dimmable set includes two easy-to-install 32.8-foot reels, an AC power adapter, and an infrared remote control with more than 40 modes, plus a Bluetooth controller with a mic. Adhesive tape and clips are included for installation. Everything is controlled via app, including setting timers and on/off modes. 
2
Best for Outdoor Use
HitLights Waterproof LED Strip Lights
HitLights
amazon.com
$42.99
If you're planning to use LED strips outdoors—around your deck, patio, or pool, for example—you'll definitely want a set with a waterproof rating of IP-67. This set fits the bill, featuring more than 16 feet of 600 warm white dimmable LED lights that are UL-listed certified with a 12-volt DC power source. There's an adhesive backing and you can cut the strip to customize for your space, plus they come with a 2-year warranty and are said to have a 60,000-hour-plus lifespan.
3
Best for Car Interiors
Shynerk Car LED Strip Lights
Shynerk
amazon.com
$20.59
For anyone who wants to trick out their ride neon hues, this LED strip light set is an excellent choice. It's specifically made for vehicle interiors, with two adhesive-backed power lines for covering both driver and passenger sides. 
Control lights using a remote control or your smartphone via app, with a voice control option, with eight fixed colors and a bevy of customized colors you can create through the app. 
Program lights to adjust to the beat of tunes with multiple modes, including strobe, flash, or fade. This set is a customer favorite, too, with an average of 4.7 stars from more than 3,600 reviewers. 
4
Best For Gaming
KontrolFreek Gaming LED Strip Lights
KontrolFreek
amazon.com
$25.99
Maximize the intensity of your gaming experience with this LED strip light set from KontrolFreek. It features six multicolored light strips, along with five connectors, for a total of nine feet of coverage—powered by a USB-charged controller. 
You can customize your favorite combos, choosing from 20 colors, 20 effects, eight brightness levels, and eight speeds. The set has a 3M adhesive backing to attach to your PC, console, walls, and more in a snap. Another plus is that the strip is super-flexible, so you won't have issues wrapping it around corners. 
5
Best for Televisions
Pangton Villa LED Strip Lights
This set is ideal for anyone who simply wants a TV backlight with some fun color options, rather than an over-the-top multicolor entertainment center experience. At an ultra-reasonable price of under $12 at the time of this writing, that's just what you'll get. String the adhesive-backed light set behind your flatscreen (it comes in two lengths) for TVs from 40 to 60 inches. 
There are 16 color-changing options plus a dimmable mode, all of which is controlled via the included remote at a distance of up to roughly 26 feet away.
6
Best for Dance Parties
Micomlan Music Sync LED Strip Lights
Micomlan
amazon.com
$33.99
If there's a DJ dance party in your future, this is your best bet. It boasts 82 feet of multicolor LED lights that pulse and change to the beat of the music, controlled via app using Bluetooth. The app features a whopping 16 million color options and 22 light style modes, plus there's a built-in mic for TikTok sessions and an infrared remote control, which can be used from up to 20 feet away. The strip has an adhesive backing and can be cut to customize lighting for your space, and it's said to have a 50,000-hour lifespan. 
7
Best for Greenhouses
Barrina Grow LED Strip Lights
Barrina
amazon.com
$59.99
On the calmer side of reasons for using LED lights, this full-spectrum, LED strip light set is specifically made for greenhouses. 
It comes with eight pieces and installation couldn't be easier: Secure each 2-foot strip to the surface above plants using provided double-sided tape, installation clips, and connector cords, then run the cable to an outlet. Up to 16 strips can be linked in a series, plus each light has an on/off switch, so they can be controlled separately or together.
8
Best for Bedrooms
Govee LED Strip Lights with Remote
Sure, you may have a sunrise alarm clock with calming mood lighting, but for truly bathing your room in colorific splendor, a multicolor LED light set is in order. Customers rave about this set, which gets an average 4.7 stars from more than 55,800 reviewers. 
The set has 300 lights and features more than 16 colors, plus six customizable colors so you can get creative and six brightness levels, all controlled via an included remote. Installation is no more difficult than sticking the adhesive backing to your walls. 
The light  is said to deliver 50,000 hours of life and is also available in a 16-foot-long option.
9
Best for General Home Projects
Govee Dimmable LED Strip Lights
Use this set of LED strip lights for a wide range of home lighting projects including brightening up closets, dark vaulted ceilings, or kitchen cabinets and shelving. The 16-foot strip offers 300 ultra-bright lights and six dimming levels, operated via the included control box. 
The strip is considerably flexible, which is why it's such a versatile choice for a range of home lighting projects. There's an adhesive backing for easy installation and it's available in bright or warm white for similar price points—about $14—at the time of this writing. 
This content is created and maintained by a third party, and imported onto this page to help users provide their email addresses. You may be able to find more information about this and similar content at piano.io
Advertisement – Continue Reading Below